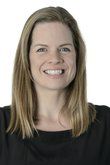 Kate Hampton
Directrice générale de la Children's Investment Fund Foundation
Date d'intervention:
Kate became CEO of the Children's Investment Fund Foundation (CIFF) in March 2016, having run CIFF's Climate Change team since 2009.
Kate became CIFF's first Executive Director for Climate change when the foundation made its first grants to reduce greenhouse gas emissions. During her seven years leading the team, Kate built a global grant portfolio of advocacy and technical assistance programs. CIFF is now one of the world's leading climate philanthropies. The foundation played an important role in strengthening civil society and supporting the development of ambitious government policies in Europe, China, Latin America, and the world's megacities in the lead up to the historic Paris Agreement in 2015. Kate sits on a number of boards, including the European Climate Foundation, CDP and the Fundaciόn Climática de México.
Kate's career spans roles in government, finance, consulting, a think tank and NGOs. Before joining CIFF she was Head of Policy at Climate Change Capital, a boutique investment firm with $1.5 billion under management, advising asset managers and multinational companies on clean energy opportunities. She has also advised policy-makers in a number of roles, including as Senior Policy Advisor for the United Kingdom's G8 and EU presidencies in 2005, and as a Sherpa to the EU High-Level Group on Competitiveness, Energy and Environment in 2007. She was also Head of the Climate Change Campaign for Friends of the Earth International; and at Green Alliance, she managed the Green Globe Network, a civil society advisory group to the UK Foreign Office. Earlier in her career, she worked at the Institute for Policy Studies in Washington D.C. and Environmental Resources Management. In 2008, she was named a World Economic Forum Young Global Leader. She holds a BSc. from the London School of Economics and a Masters in Public Policy from the Harvard Kennedy School, where she was a Fulbright Scholar. She speaks French and Spanish fluently.
Lire la suite
Événements passés Kate Hampton